It makes me want to go diving again. Now that summer is over the lakes should be better. Visibility should have improved.
by warzamobile with

Comments Off
For two years I have been doing research to find as much information as possible on the topic of via ferrata. Visiting the via ferratas which date back to the 1914-18 war would be interesting. In this short video recording we see some of the tunnels dug in to the mountain as well as where soldiers would have slept.
Via ferrata is not just a sport to see nice landscapes. Historic exploration is also possible.
by warzamobile with

Comments Off
An advert for Air New Zealand, Boeing 777-300, Lord of the Rings, The Hobbit, horse riding, New Zealand's landscape, the three or four passenger classes and of course bungee jumping.
by warzamobile with

Comments Off
I have started to mute news sources that provide us with headlines that tell us how to feel rather than give us information about the content of the article. On Facebook the alternative would be to unfollow people I have met in person, friends. I prefer to mute news sources and get updates from friends.
We will see when social media "experts" and headline writers go back to writing headlines that tell us about the content of articles.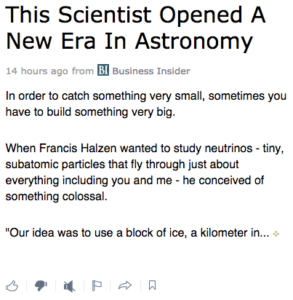 by warzamobile with

Comments Off
This documentary short takes you inside the fascinating world of film preservation and restoration. From Gravitas Docufilms. Featuring George Willeman, Liz Stanley, Jan-Christopher Horak, Patrick Loughney, Leonard Maltin, Hugh Munro Neely, Robin Blaetz, Allen Daviau, Anne Morra, Michael Gates, Robert A.
by warzamobile with

Comments Off
An interesting and amusing TED talk.
by warzamobile with

Comments Off
The American blogosphere is corrupt. Google Plus is an excellent product. It provides it's users with an elegant amount of control as to who sees which post and whom it can be shared with. It provides groups and communities. It allows you to create your own circles. In Essence Google Plus is an extraordinarily flexible space where community building should be encouraged.
Why does the American Startuposphere and blogosphere hate Google so much? Samsung has benefited from Android. We as private individuals have gained a lot through Gmail and google's search engine. Google reader was really popular for a very long time in web terms.
by warzamobile with

Comments Off
Rolling in the Deep – Anilao from Dustin Adamson on Vimeo.
Some interesting underwater footage
by warzamobile with

Comments Off
Typhoon Haiyan from Janssen Powers on Vimeo.
by warzamobile with

Comments Off