When I spend time online I often have difficulty finding a website which I find very interesting therefore I have decided to try to make a website which I would like to visit several times, hence if you have any comments or queries do not hesitate to contact me at richard@main-vision.com
"My schooling not only failed to teach me what it professed to be teaching, but prevented me from being educated to an extent which infuriates me when I think of all I might have learned at home by myself."

-- George Bernard Shaw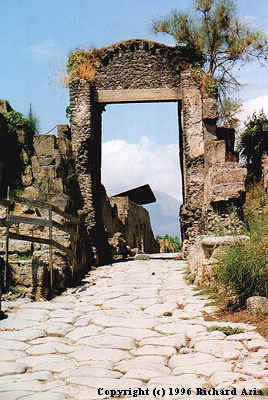 ---
My pages
A message from the Web Master!
About going to Tanzania: Having been to Tanzania had a positive on me, speaking to locals and more.
What's new: A quick way of finding out what has been updated on the page since your last visit.
Roman civilization: This part of my page was started in 1996 after having traveled around, Palmiye in Turkey, Ardèche in France and Rome in Italy. I spent many hours working away. The result was a web site, which I invite you to see.
Surfing the World Wide Waves, a weekly article: As I spend many hours online and that I do not have enough time to do research on the civilization of the Romans I have decided to put up a collection of articles I have written
Video taking: A recent addition to the website. I love video so I have decided to talk about my shoots. Once broadband internet access will be more widespread, I'll start broadcasting my video on the net.
Environmental Systems Notes This section consists of my notes for Environmental System at school and are mainly for personal use although I hope that people will comment and contribute to the section.
Geography notes: In Geography notes we need to cite case examples as well as understand the theories. These are my course notes - again I welcome contributions.
Pensez vous que les moyens de communications nés au XXème siécle soient un danger pour les autres types de médias ou pour les contacts humains? Do you think that the communication methods of the 20th century are a danger for the other media as well as for human contact? French schoolwork.
Chat with other people who are visiting this site at the same time as you
My discussion group Although some people say that the Internet is the promotion of the invisible man civilization I prefer to think that people do react to what people put on WebPages, after all this is the most powerful media if you include e-mail. The discussion group is where people can meet and chat about topics they may find of interest.
Rick&Vicki's web page- a writing page: This is a writing site I was working on with Vicki, someone in the states whom I came in contact with through ICQ. There will shortly be an electronic magazine created for teenagers on the web. It will contain the usual film reviews, music reviews, some current events, a little philosophy, poetry, technology reviews about the web etc. If you're interested in contacting us then e-mail rick_vicki@hotmail.com
Rings I belong to: A collection of rings which I have joined in order to increase the amount of people seeing my pages as well as helping people find sites which relate to mine in some way.
Awards won by my site This is where I keep the awards that my site has won
For all those of you with me during the Crete trip during may of 2000 the video is now online, split into four parts. click here to view the video
Other people's sites
Spectral Exposure: Photographs taken by my brother.
main-vision.com: The family domain, which hosts this site.
Ecolint: My school's website
If you would like to contact me then e-mail me at rafaleaz@geocities.com, or you can use this control panel